A few years ago I called my Dad to wish him a happy 60th birthday. I also asked him to join me on a bike trip along the coast of California at the end of the summer. My Dad had been dreaming of going on this trip for over ten years, but it never came to fruition. My father was in excellent shape for his age, but once he turned sixty it donned on me that the time to do this trip was as soon as possible, before it was too late.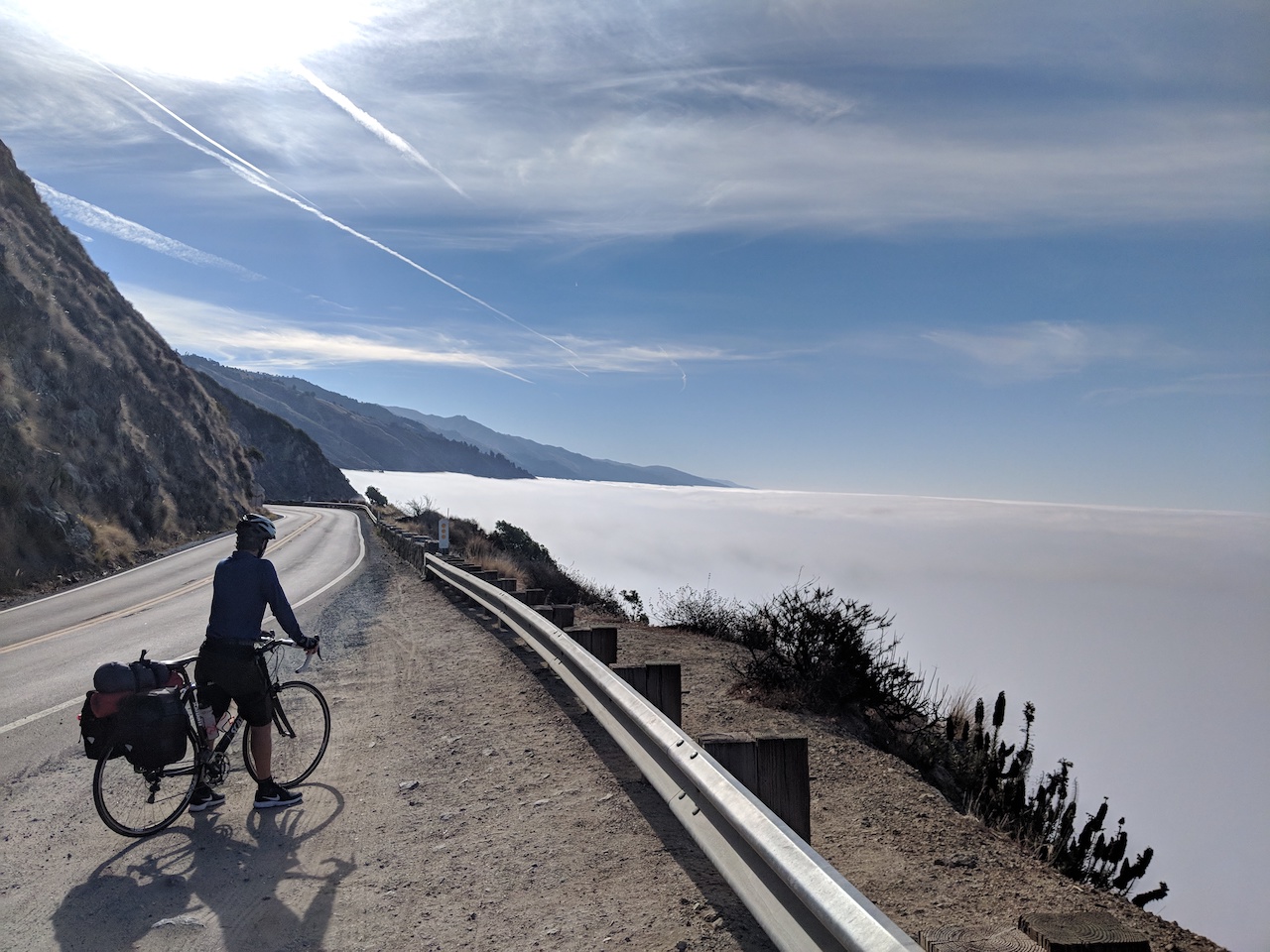 The Plan
Route
It sounded like a big untertaking until I looked into the details. The total distance from San Francisco to Los Angeles is just over 500 miles. Spread across ten days would require a leisurely fifty miles per day. I was already regularly doing rides of this length in the Bay Area, and my Dad was not far behind with his rides in Los Angeles.
We started researching and based our itinerary off ones we found online. We divided the trip into ten segments based on reasonable stopping locations, alternating between camping or staying in a bed & breakfast.
Gear
My Dad and I have hundreds of miles of backpacking experience in the Sierras, so we already knew how to pack light. It was very easy to think of this trip as a backpacking trip on wheels.
Instead of a backpack, we used rear-mounted bike panniers to store our belongings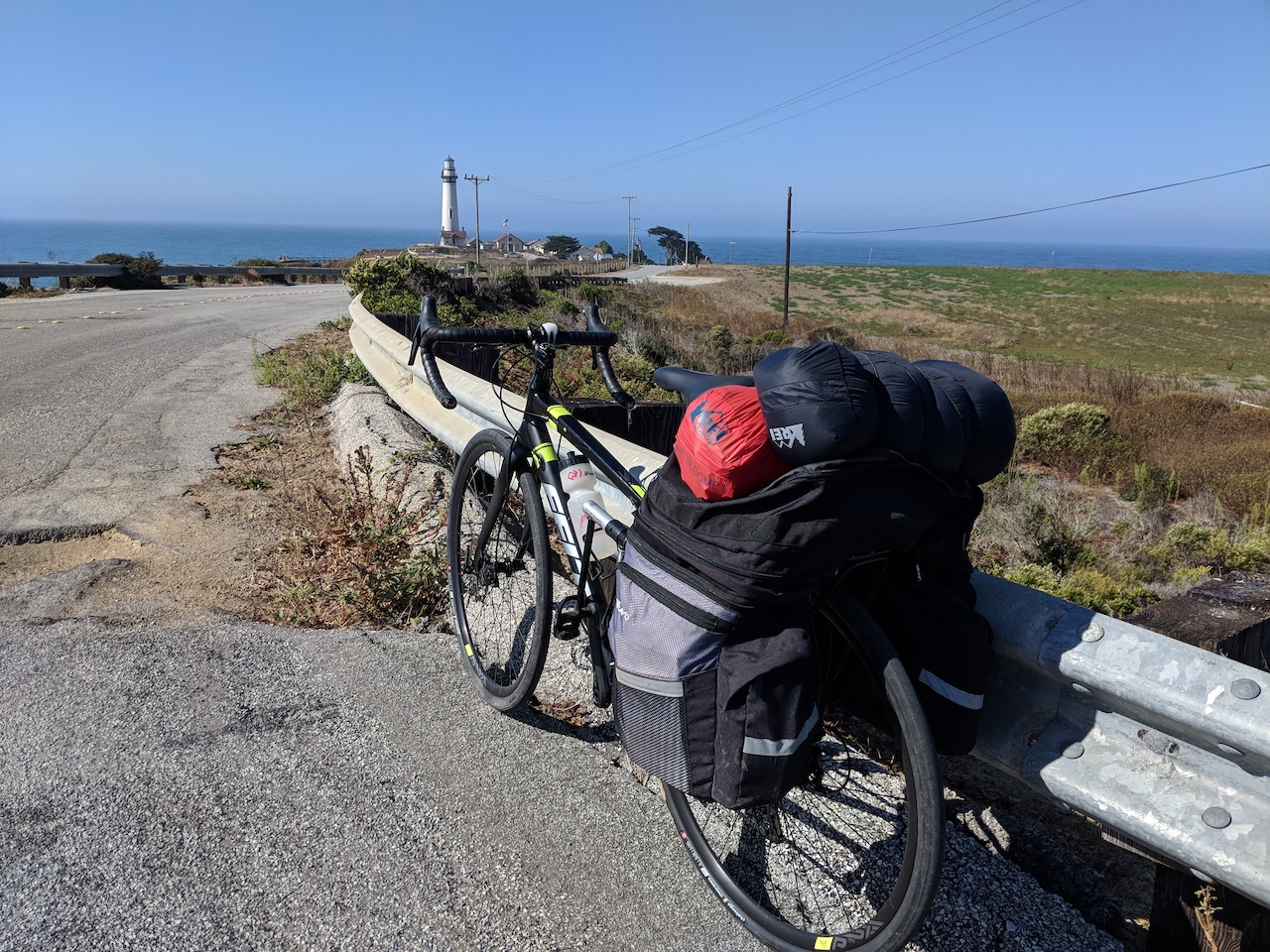 Other than that, most of the principles were the same:
Two changes of clothes (do laundry along the way)
Down sleeping bag, inflatable sleeping pad, and single-person tent.
Two water bottles: one mounted on the bike for quick access and another for refilling between stops.
Cooking kit: small isobutane gas stove, pot, bowl, and spoon for simple cooked meals in camp.
Toiletries: toothbrush and paste, concentrated soap, washcloth
In addition, I packed gear specific for biking:
Jersey
Spandex pants
Bike gloves
Bike cleats and pedals
Bike lock and cable
Tire repair kit: new inner tube, tire patches, bike levers, and portable pump
The bike trip did have some significant gear advantages over backpacking that are worth calling out:
A week's worth of food supply is not required, only one or two days at a time. We re-stocked at supermarkets along the way. On top of that, we could eat out for dinner when our destination had dining options.
Camping gear is not necessarly required. All of our camping destinations had B&B or glamping options available. That being said, I very much enjoyed our camping nights and if I did the trip again I would try to camp more, not less.
The trip had a major advantage of being next to a major state highway and within cell coverage 95% of the time, meaning that survival gear was not as critical.
Reservations
It is worth mentioning that we did not need to make reservations at any of the state campgrounds that have a bike & hike campground. Availability was on a first-come, first-served basis and one night only. The fee was rediculously cheap; I think the most expensive campground charged $10/person. The state campgrounds with bike & hike campsites are viewable on the California Parks and Recreation website. Search for campgrounds with the "Hike or Bike Campsites" feature.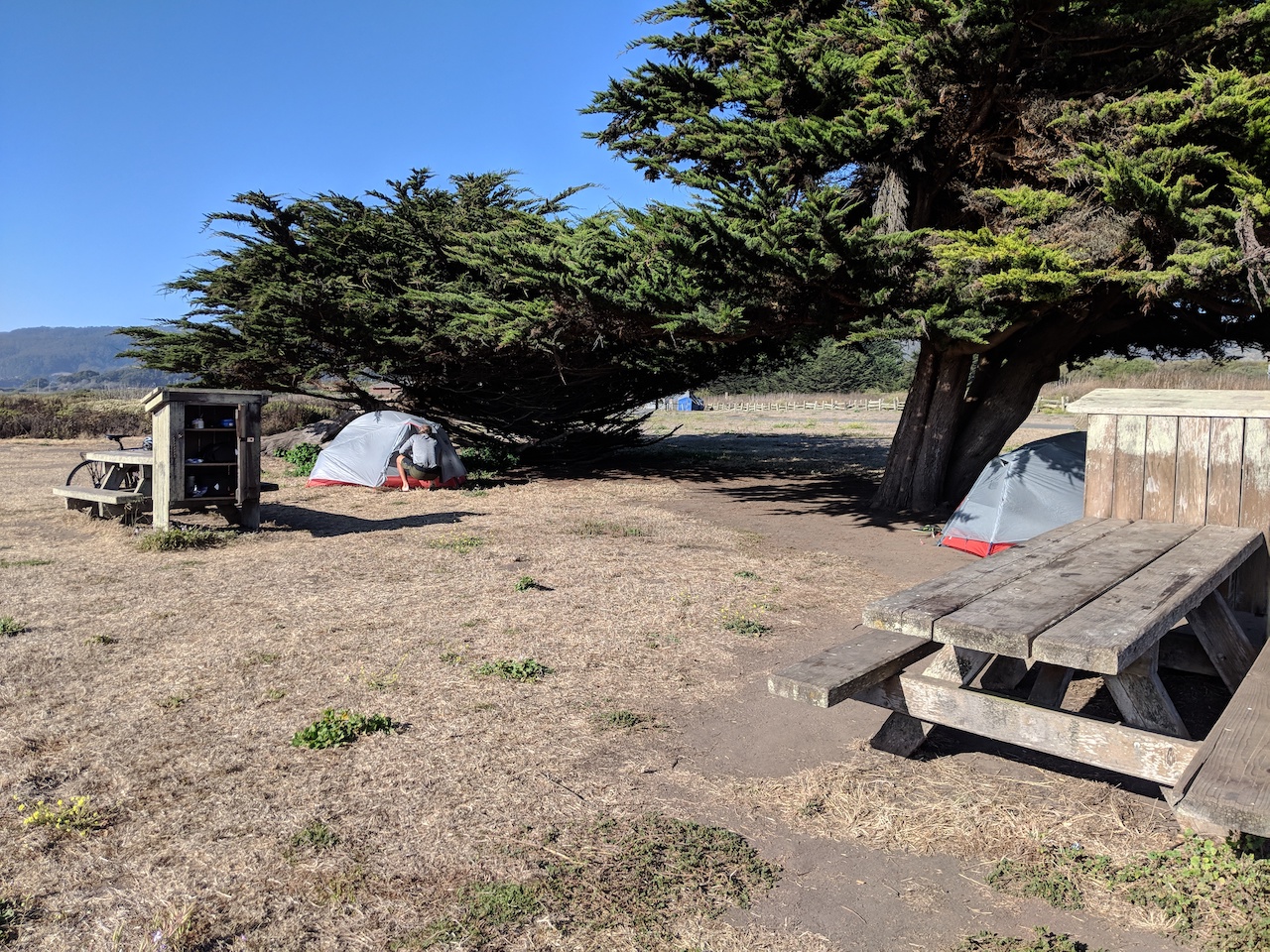 For the motels or bed & breakfasts, we reserved ahead of time as one would expect.
The Trip
This trip was one of the most memorable experiences of my life, and I am so happy to have shared it with my father. Over the course of ten days, we saw some of the most spectacular sights along one of the most beautiful coastlines in the world.
Like backpacking, the first few days were tough but over time our bodies got used to the new grind. Each day became a ritual:
Have breakfast, typically oatmeal and instant coffee.
Start biking at 8 a.m.
Lunch break in town or cheese/crackers/trailmix on the side of the road.
Arrive at camp or bed & breakfast by 3 p.m.
Decompress with a shower and clean clothes.
Dinner in town (a couple of times cooked in camp).
Go to bed by 10 p.m.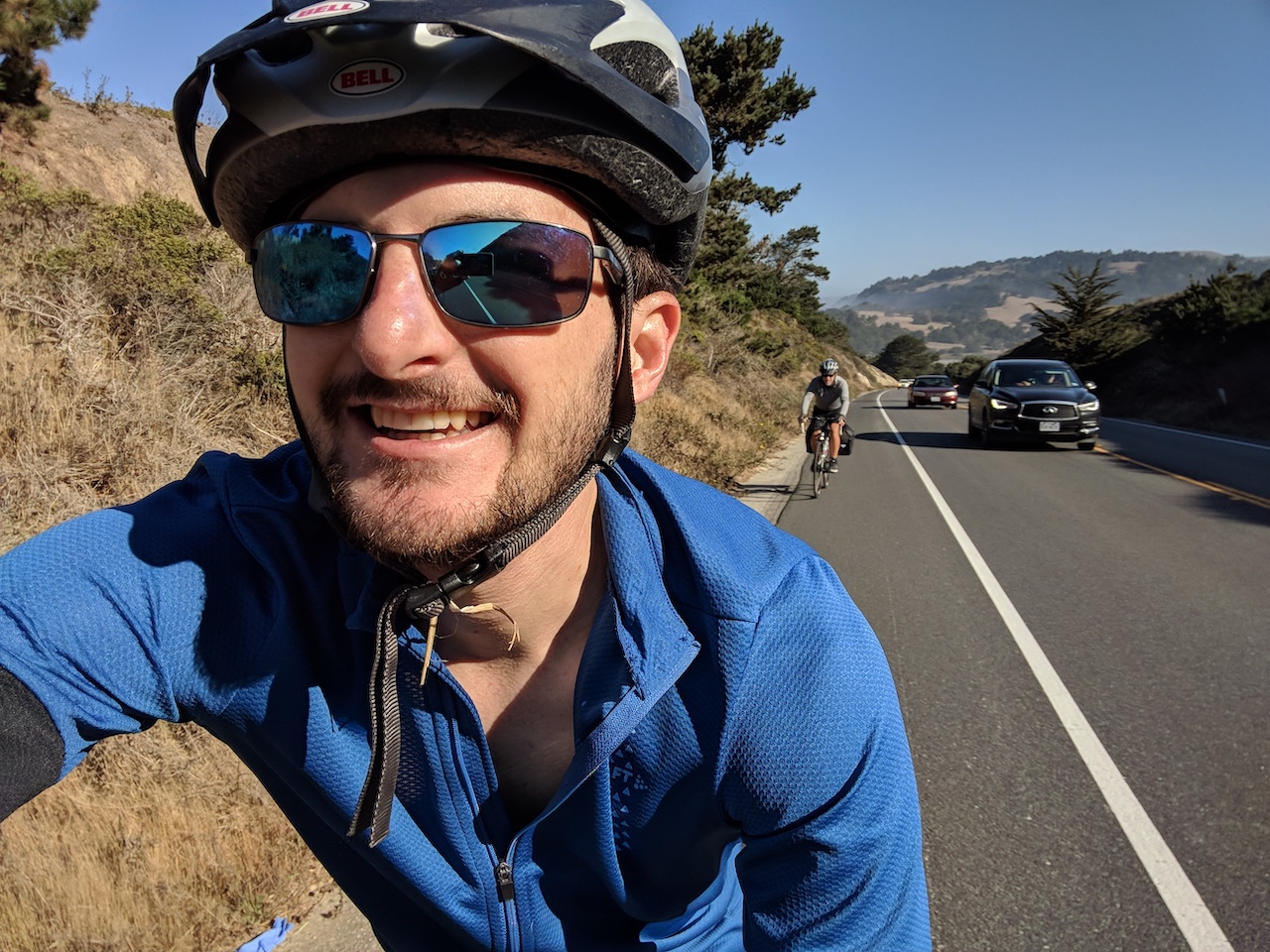 Impressively, the trip went without major incidents. In fact, the biggest suprise of the trip was how much safer it felt in practice. We were initially skeptical of the amount of shoulder avaiable for bikes, especially along the Big Sur coastline portion of the trip. I am happy to say that this was a non-issue and the shoulder is much larger than it looks from a car. In addition, we found vehicles on that portion of the drive to be very respectful to bikers. They were probably more worried about driving off the edge of the road then we were!
As I mentioned earlier, the nights we camped were my favorite nights of the trip. On a trip where we were spending most of our day outside anyways, it felt natural to ride into camp, pitch our tents, and appreciate the beautify of the surrounding nature. It also offered a chance to meet other bikers on similar journeys. One person we met was on his way all the way from Alaska to Bolivia!
Detailed Itinerary
For those of you who might be interested in doing this trip yourself, this is a more detailed breakdown of each day of our trip.
Day 1: San Francisco to Half Moon Bay
Lunch Stop: Breakers, Pacifica
Lodging: Half Moon Bay State Beach (Bike & Hike Campground)
Dinner: Cafe Capistrano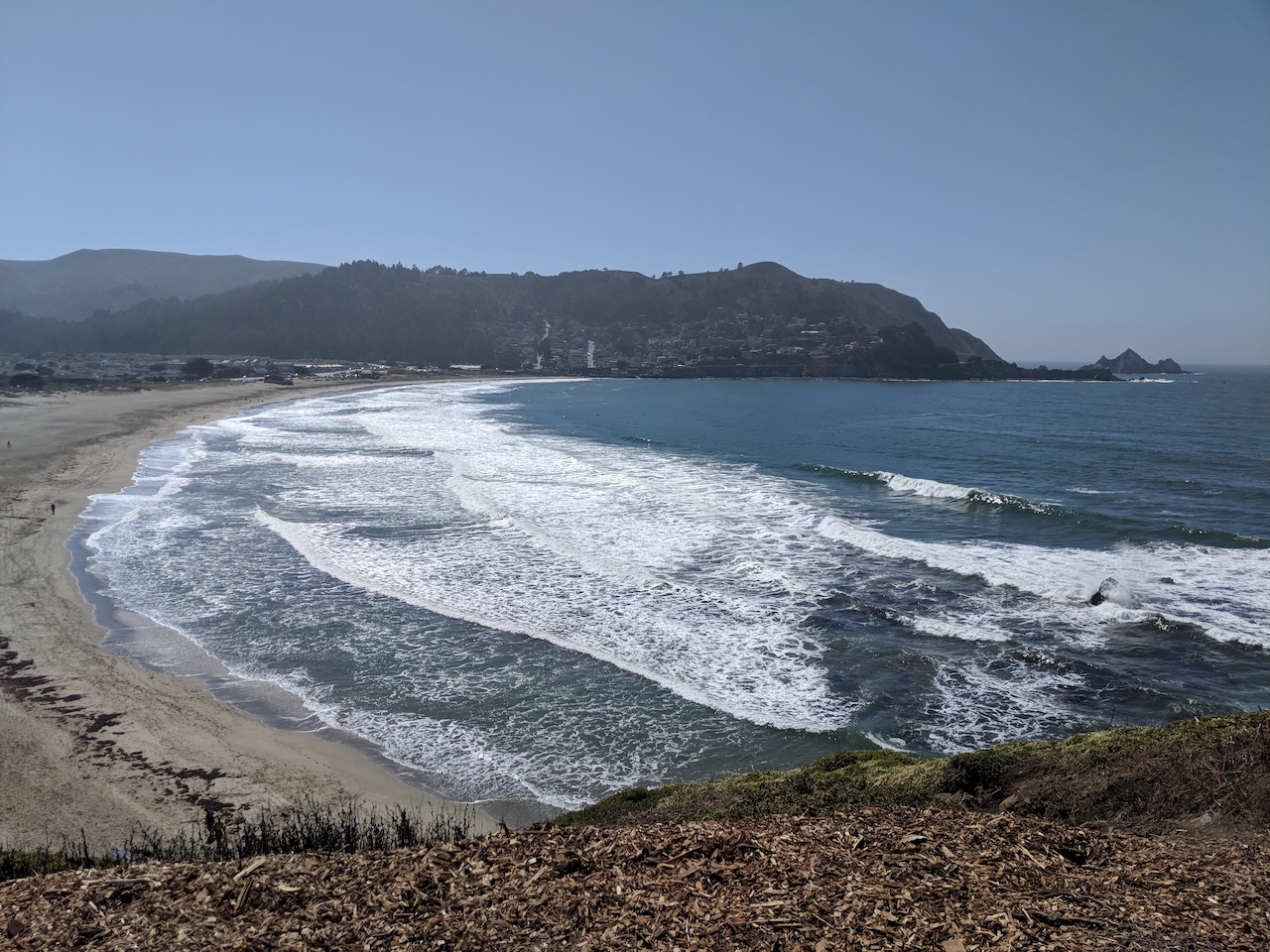 The first day quickly departs the busy metropolitain area of San Francisco and meanders past Daly City and Pacifica. The highlight of this segment is the Devil's slide bike/walking trail which is a converted section of the old Pacific Coast Highway. After a long steady uphill jaunt from Pacifica, it is refreshing to coast while taking in the breeze and beauty of the ocean silhoueted by the cliffs.
Day 2: Half Moon Bay to Santa Cruz
Lunch Stop: Cemitas One, Davenport
Lodging: New Brighton State Beach, Capitola (Bike & Hike Campground)
Dinner: Sotola Bar and Grill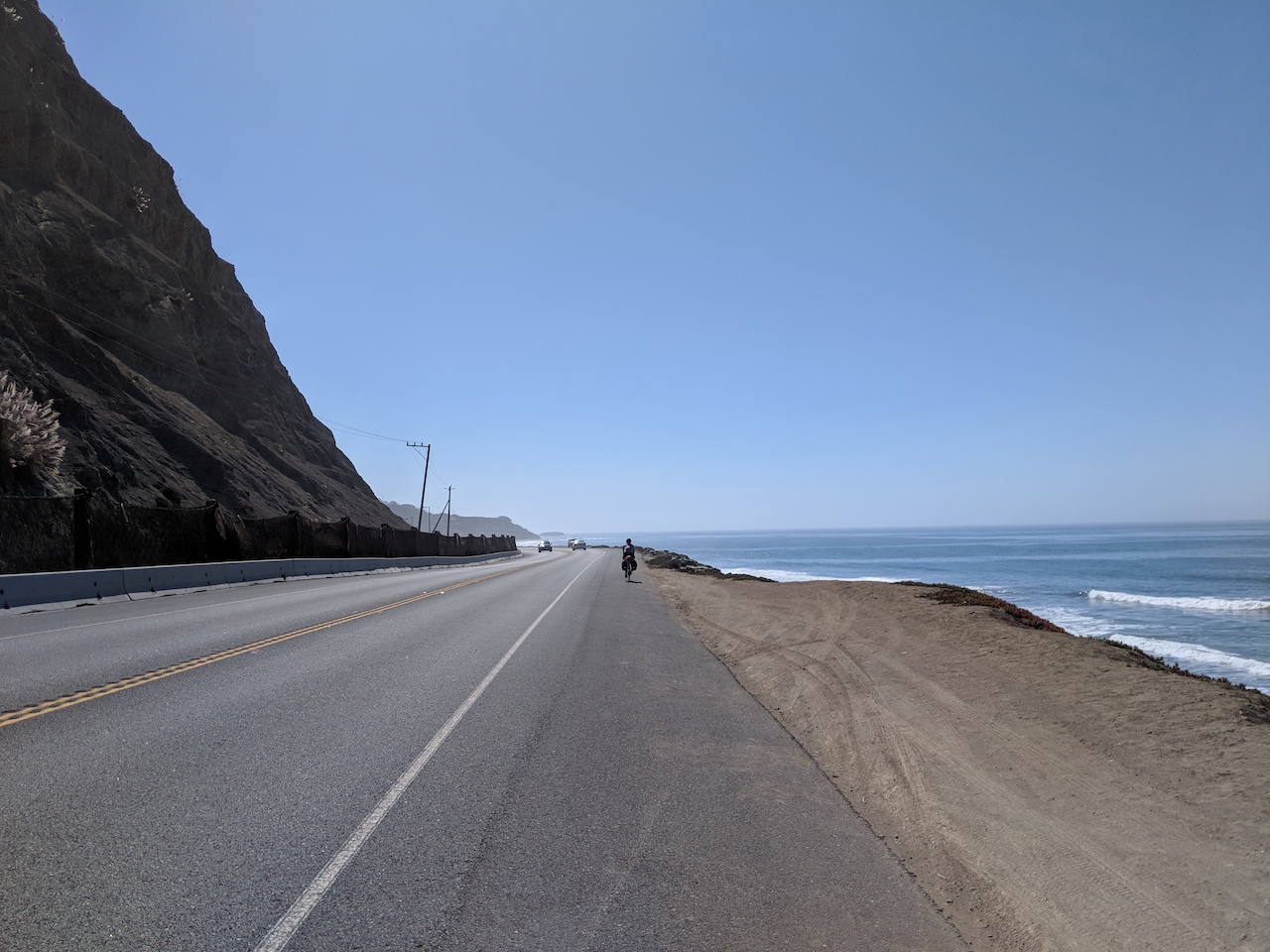 The second day is considerably longer in terms of mileage than the first. That being said, the terrain is a very gradual coast ride with rolling hills meandering through farms and marine sanctuarys along the coast. My favorite part of this day was a section of biking trail that hugs the ocean adjacent to a towering cliff. The finale arrival along the Santa Cruz coast is also spectacular.
Day 3: Santa Cruz to Monterey
Lunch Stop: Haute Enchilada Café, Moss Landing
Lodging: Airbnb in Seaside
Dinner: Hula's Island Grill, Monterey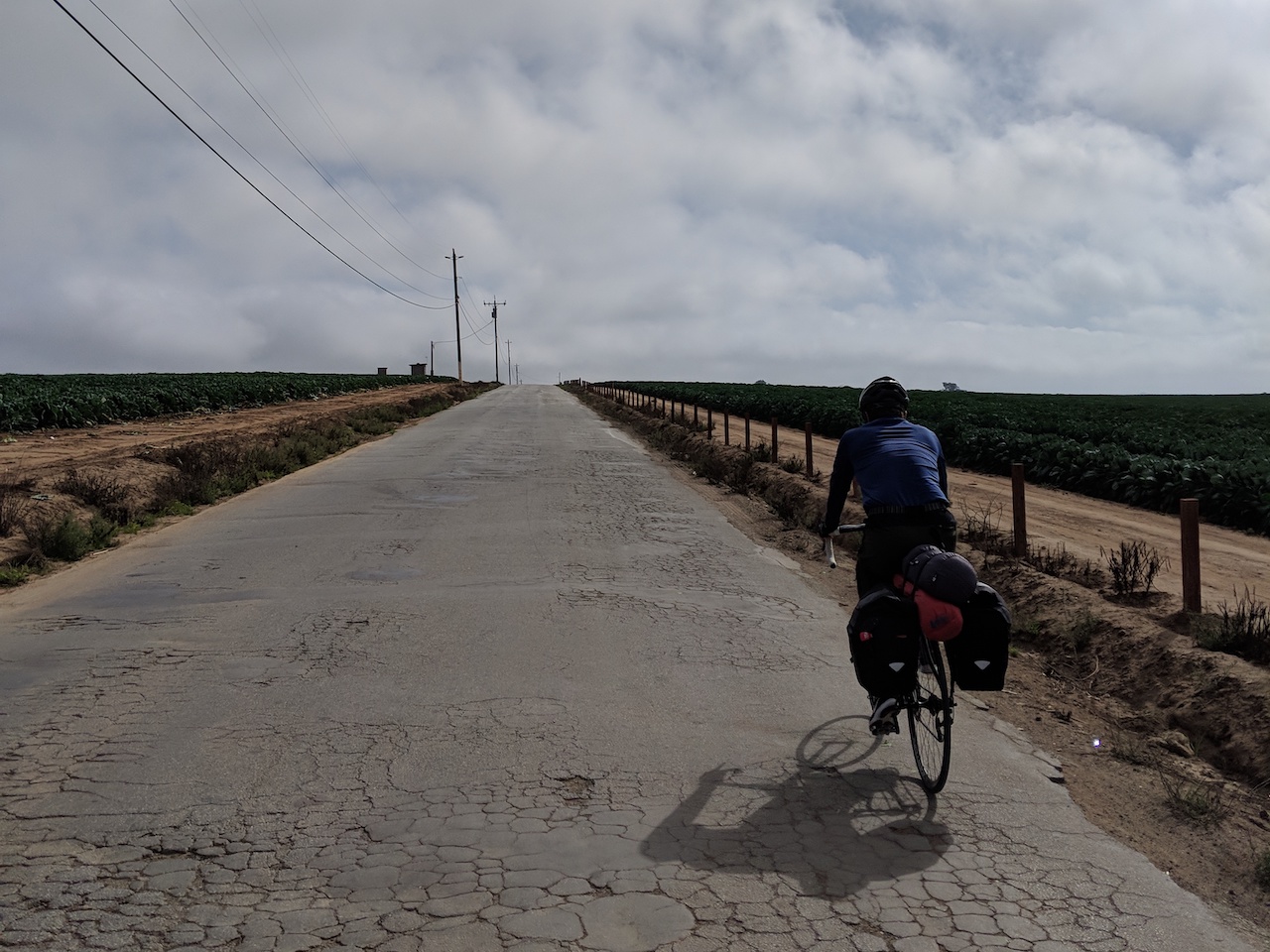 This is the first part of the trip that makes a brief departure from the coast and winds through farms along the Monterey peninsula. The final segment along the sand dunes and Monterey coastline is magestic. We made a stop in Seaside to restock our food before the upcoming segments along the desolate coastline.
Day 4: Monterey to Big Sur
Lunch Stop: Bixby Bridge (packed lunch)
Lodging: Pfeiffer Big Sur State Park (Bike & Hike Campground)
Dinner: Cooked in camp (a few small restaurants in town)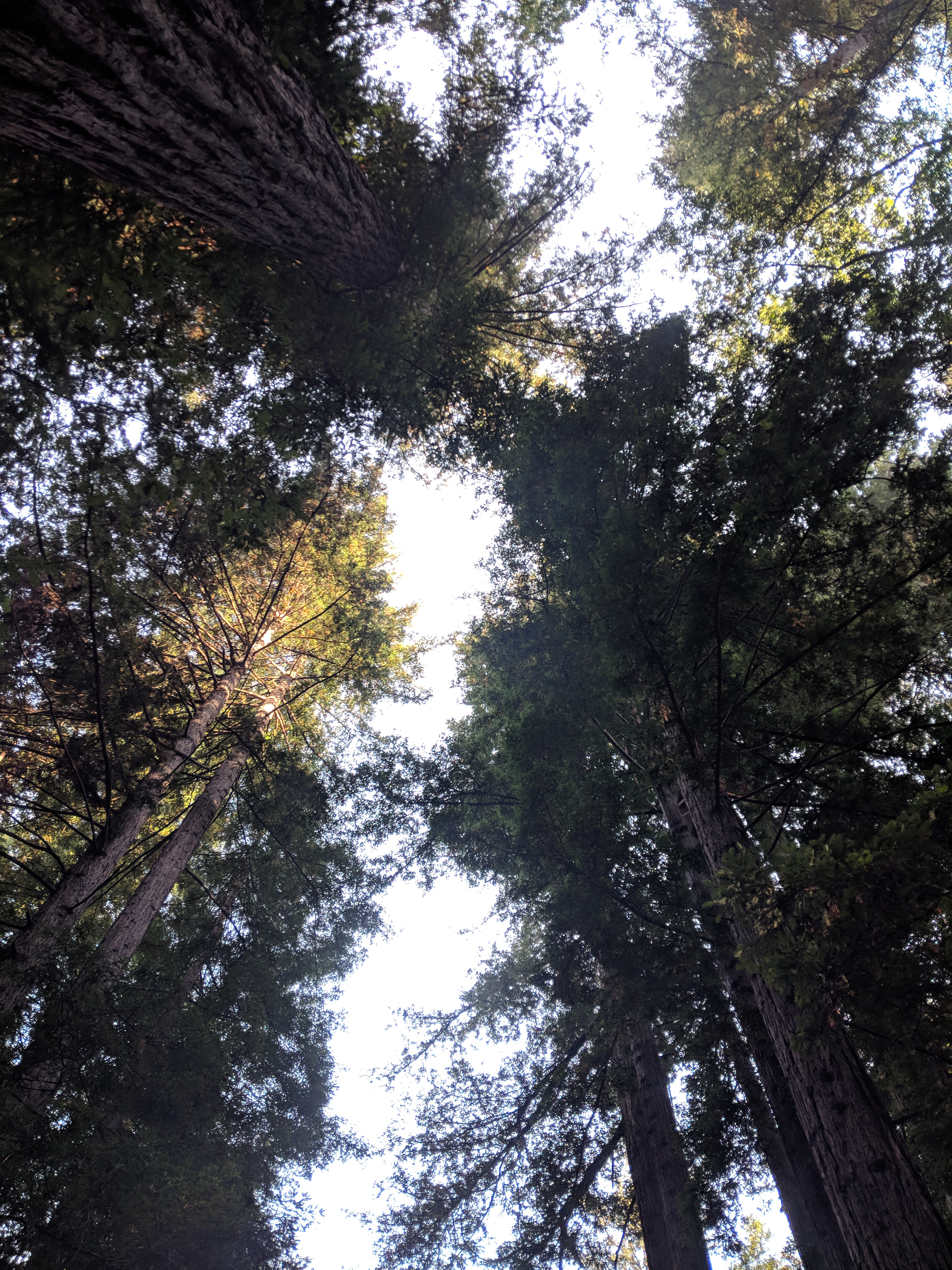 There is flexibility along this route, but we opted to go the long way around Monterey Peninsula for the famous seventeen mile drive (which is free for bikers). I imagine this is a spectacular view when the weather is nice but we had a case of typical thick morning fog. There is not much commercial past Carmel so plan accordingly for lunch but get excited for some spectacular coastal views all the way to Big Sur.
Day 5: Big Sur to Ragged Point
Lunch Stop: Packed lunch (not many spots on this stretch)
Lodging: Ragged Point Inn
Dinner: The Restaurant at Ragged Point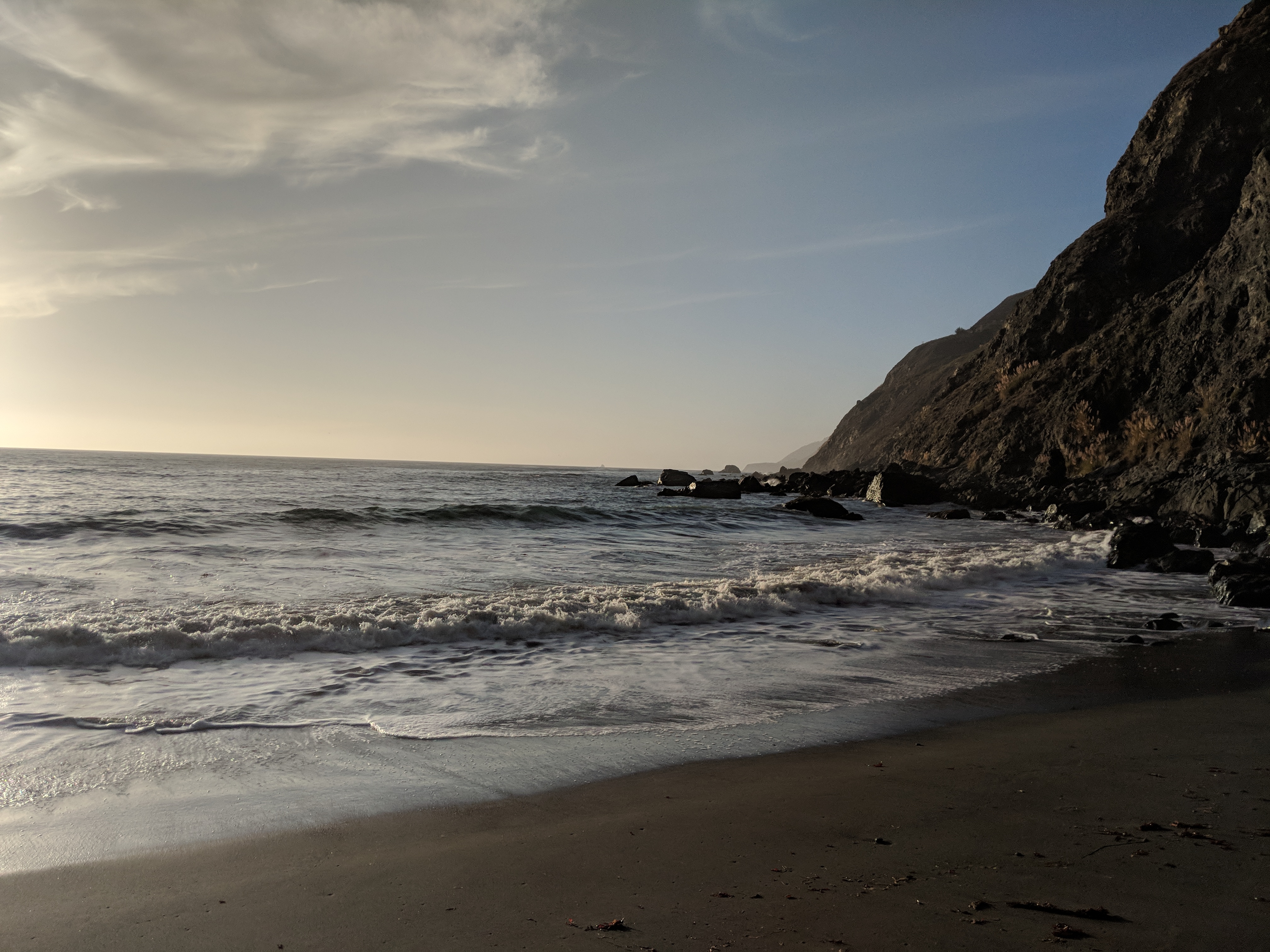 This is the most elevation change and longest day of the trip but provides for some of the most spectacular views of the Pacific Coastline. Pace yourself accordingly. Throughout the day we were acending and descending through the fog bank that hugs the coast, and occasionally catching our breath while taking in the spectacular sights.
Day 6: Ragged Point to San Luis Obispo
Lunch Stop: Martin's Restaurant, Cayucos
Lodging: Airbnb in San Luis Obispo
Dinner: Buona Tavola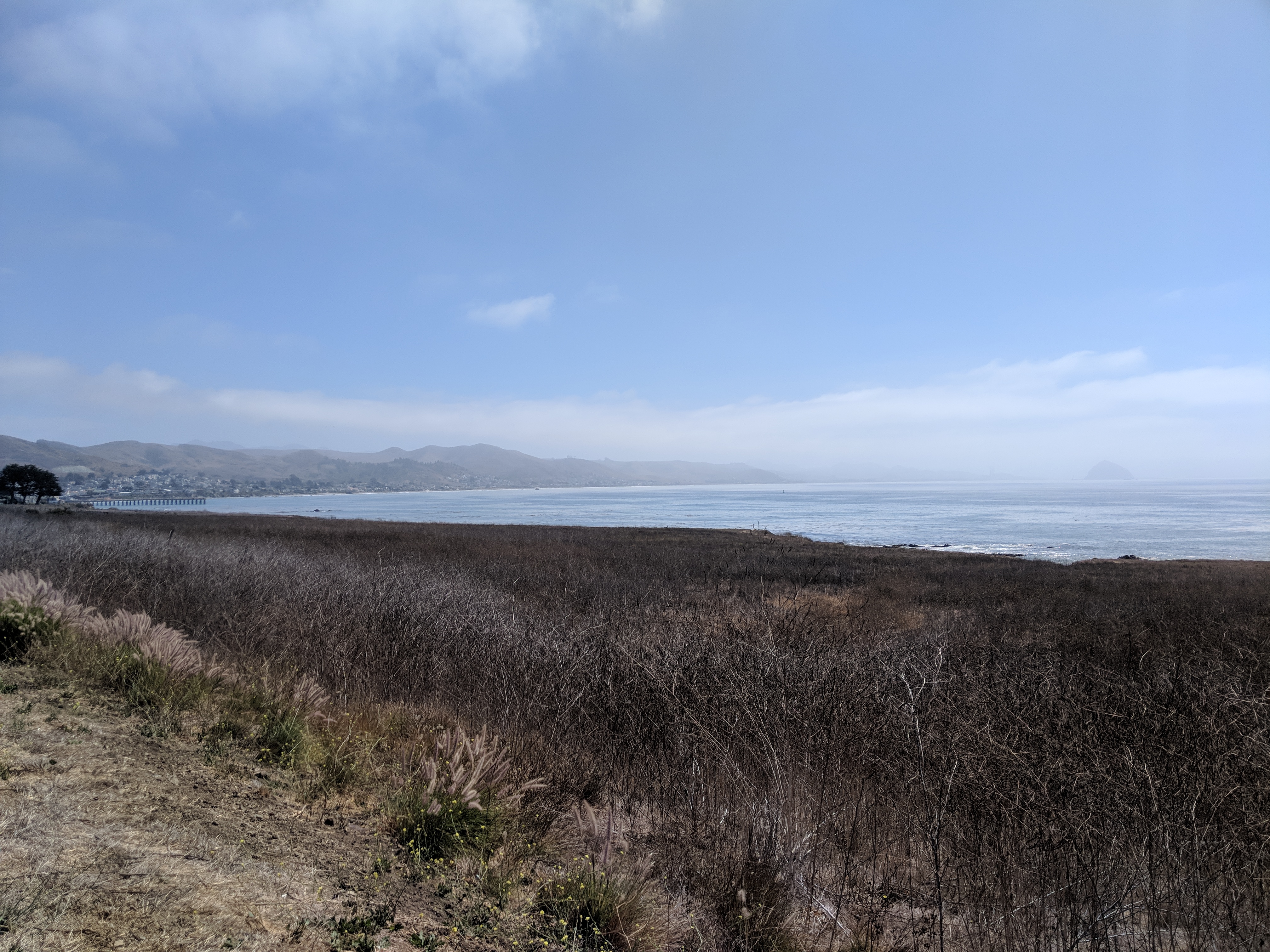 This is the departure from the secluded coastline and back to civilization. Your mileage may vary but I remember the morning departure from Ragged Point down to San Simeon was one of the wettest, coldest mornings of the trip. We were sure to stop for a coffee in Cambria to warm up. The Cayucos coastline offered an unexpected final coast vista before making the final approach into San Luis Obispo.
Day 7: San Luis Obispo to Lompoc
Lunch Stop: Charly's Place, Guadalupe
Lodging: Lotus of Lompoc Motel
Dinner: 805 Chop House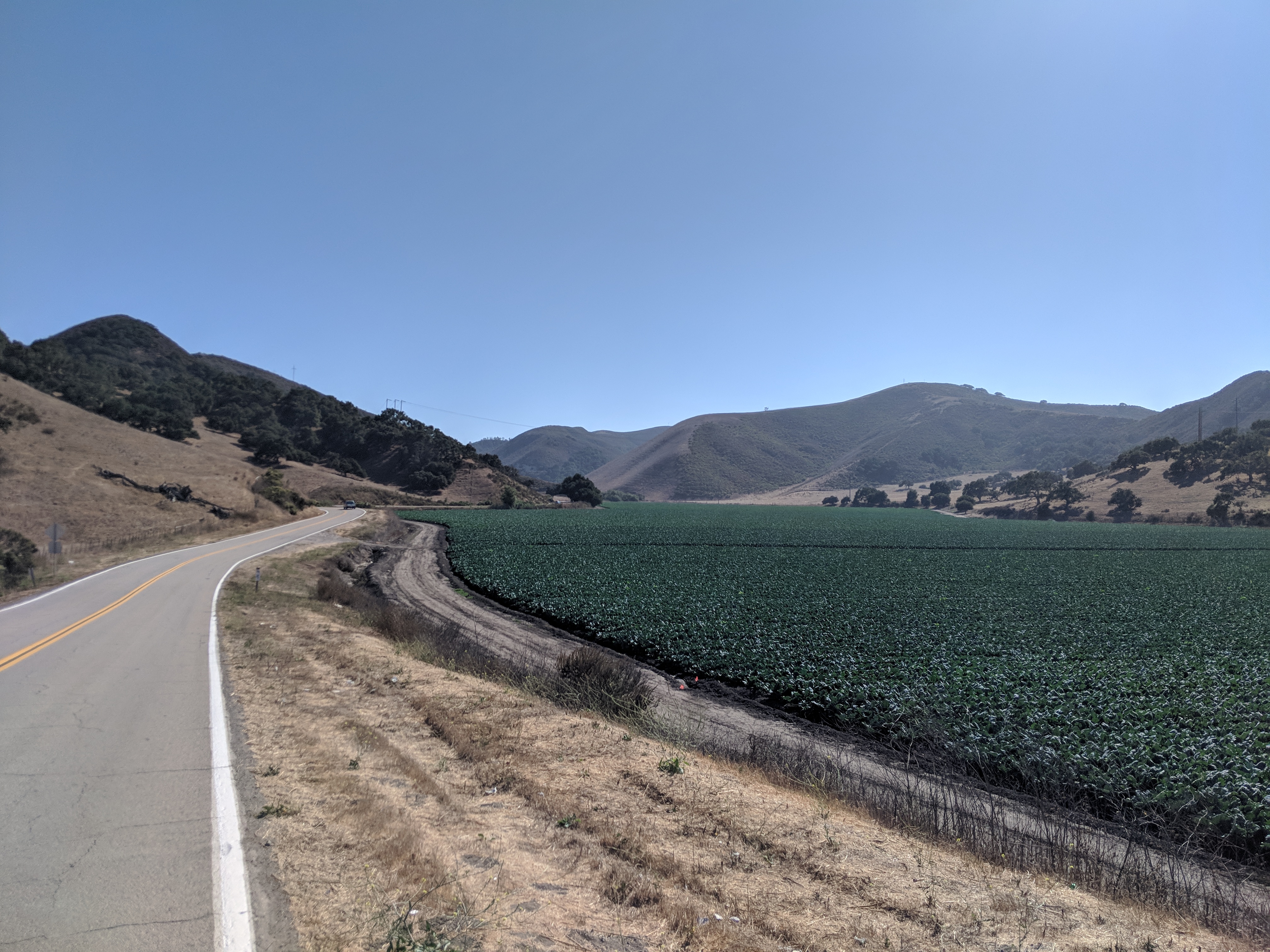 Before departing the San Luis area, we stopped to restock our food once again. Once past Pismo Beach, this day takes another break inland to circumnavigate Vandenburg Air Force Base. As usual, I forgot my sunglasses at our lunch stop in Guadalupe and had to bike against the wind to go back and get them. The constant battle with the wind at my face made it clear to me why it is much easier to do the trip from north to south. The long final descent over Mission Hills down into Lompoc is a refreshing conclusion to the day.
Day 8: Lompoc to Santa Barbara
Lunch Stop: El Capitan State Beach Campground (packed lunch)
Lodging: Airbnb in Santa Barbara
Dinner: Belmond El Encanto
This section features the most treacherous segment of the whole trip: a section of Highway 101 to Gaviota. Be careful as the shoulder is narrow and cars are moving quickly on the highway. Once past that, it is smooth sailing along the side of the 101 overlooking the Santa Barbara coastline (with plenty of shoulder). We were sure to stop and observe the college scene at UCSB before continuing towards our final destination of Santa Barbara.
Day 9: Santa Barbara to Malibu
Lunch Stop: Beach House Fish, Ventura
Lodging: Leo Carillo State Park (Bike & Hike Campground)
Dinner: Cooked in camp (not many restaurants around)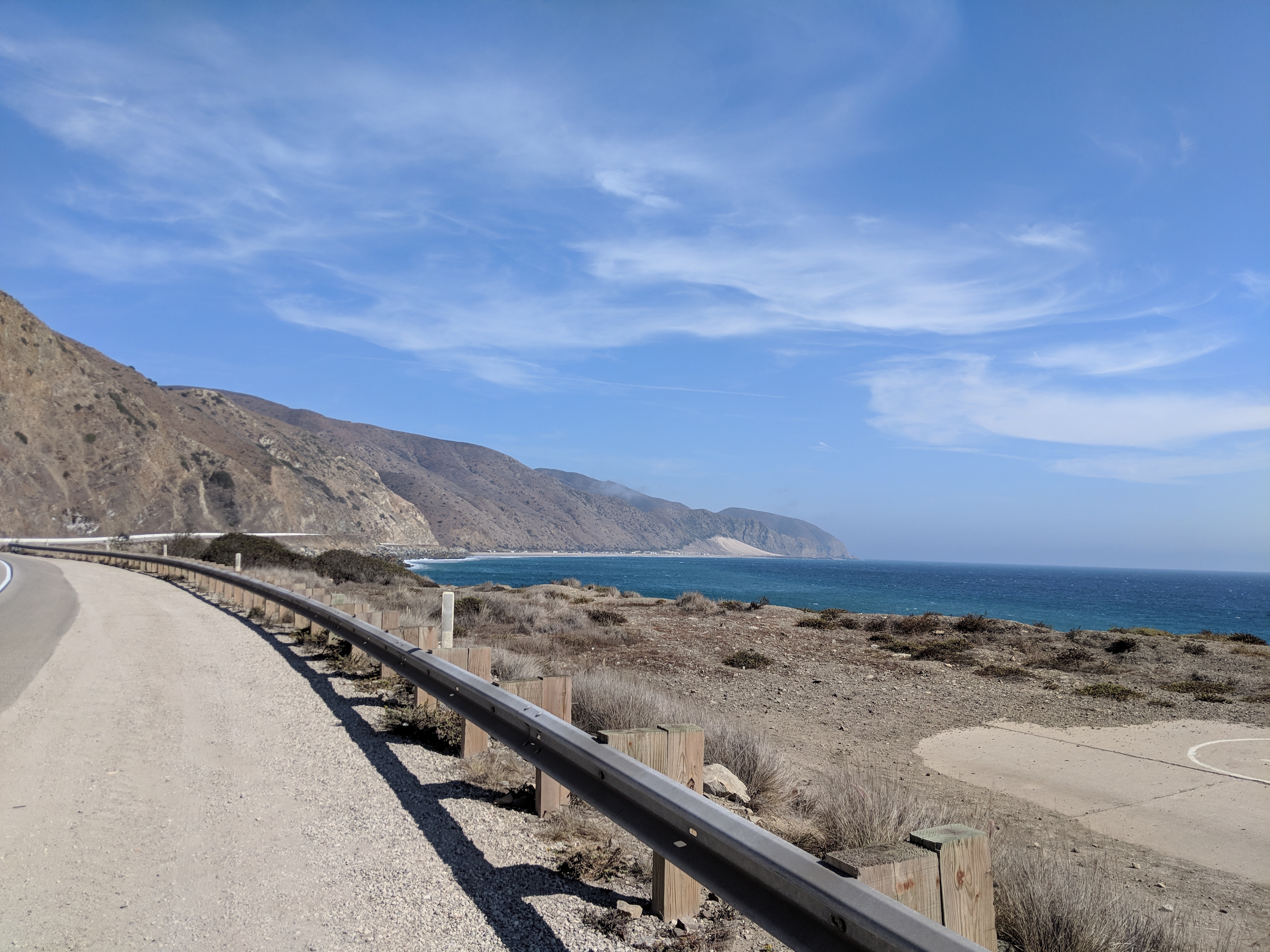 This is the last full day of bike riding that follows the coast past Ventura through the farms in Oxnard and around Point Magu before landing at the Leo Carillo State campground. It feels like the Southern California version of the Monterey Peninsula ride which combines coastline views with the backroads through fields and farms. Save for a fish spot called Neptune's Net, there are not a lot of dining options here so we cooked in our campsite and made a small camp fire.
Day 10: Malibu to Manhattan Beach
Lunch Stop: Simmzy's, Venice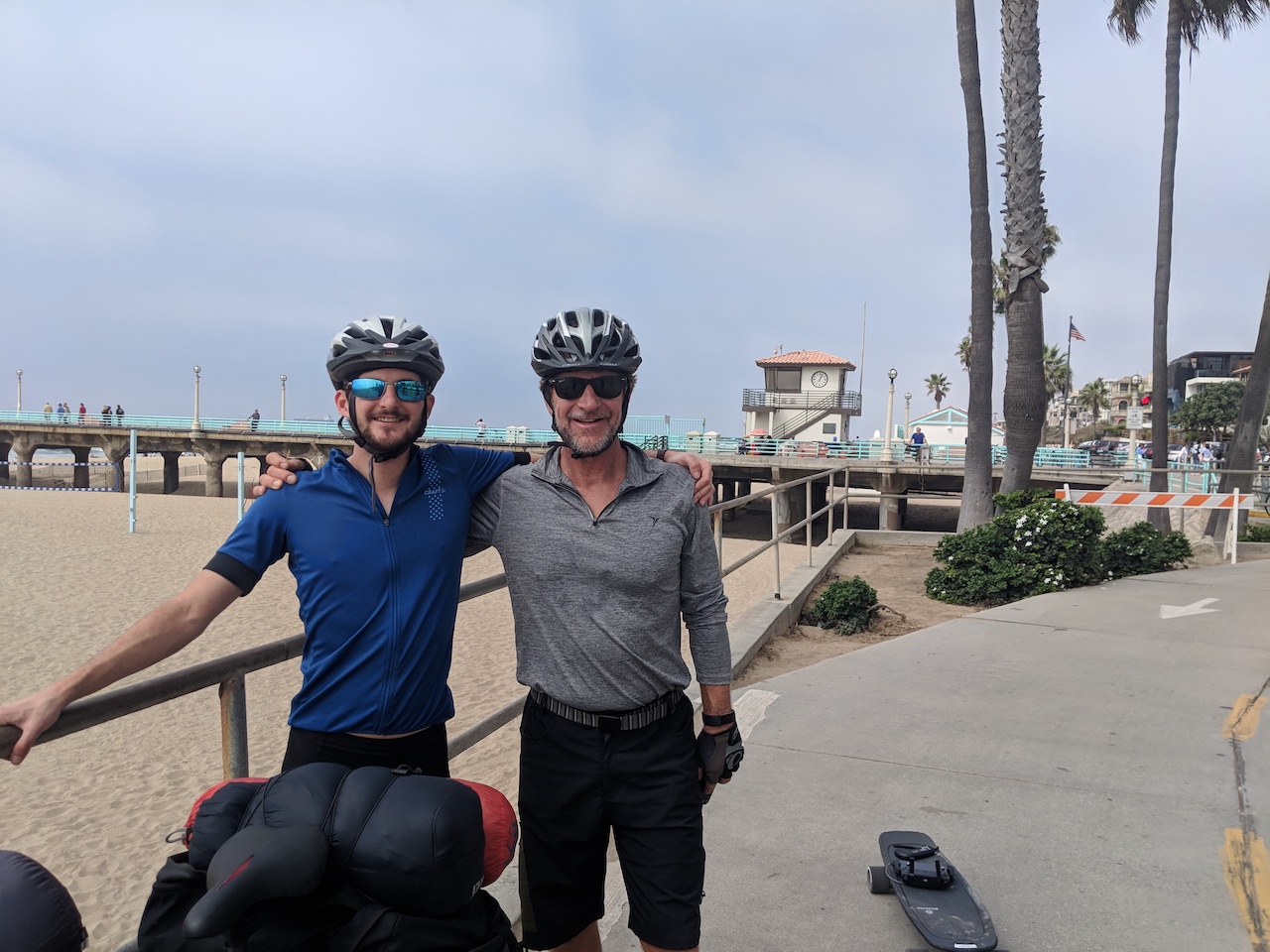 The last section of the trip is more of an urban ride passing through Malibu and Santa Monica all the way down to the South Bay. This is our home territory so there was not a lot of new things to see here but we were very excited to arrive home after five hundred miles of awesome sights.