I am known by most of my friends as the "bar guy", for better or for worse. I moved to San Francisco in 2015 and before I knew it I was rapidly discovering new neighborhoods and attractions throughout the city. At one point a good college friend Adam came to visit and asked if I had any favorite bars that we could go visit. In thinking about it, I realized that it had been only six months or so and I had easily visited a few dozen bars.
An Excuse to Explore
You probably notice a theme on this blog is adventure and exploration. The thing I like about going to new bars is that there is an element of thrill when venturing to a new place. Especially in my early days in San Francisco, visiting a new bar often meant discovering a new street or a new neighborhood entirely. One of the coolest parts about the city is that there is so much diversity contained within the 7x7 grid and it can change drastically from block to block.
Casual
Bars are great because they have such low barrier to entry. Restaurants, concerts, shows, and the like all require a bit more planning and investment of money. On the contrary, with bars I feel the ability to be spontaneous and call up a good friend of mine last minute to go out to the bar. Pair that with visiting a new bar, in a matter of minutes you have created a miniature adventure combined with spending time among people that you care about.
The Map
After my college buddy prompted me for my favorite bars, it donned on me that I should keep track of all the bars I've been to in SF and around the Bay area. And so, the Bar Map was born! It took a bit of digging through my Google Maps timeline and Facebook events to recall all my previous bars to that date, but going forward every time I go to a new bar I am sure to log it on the bar map.
Rules
Since this is not 'Nam I had to create a few ground rules about what counts as a bar visit:
One alcoholic beverage must be ordered and drunk by me during the visit.
The establishment must have a physical bar. There is a big grey area regarding whether a restaurant/bar counts as a bar, and I just say "I know a bar when I see it".
If a bar shuts down and a new bar reopens in its place, this counts as two separate bars. (One example of this on my bar map is Zombie Village which replaced "Tradition")
While not a rule per se, it should be noted that the purpose of this bar map is only to record and count bars and not to rate or order bars in any way.
Milestones
I visited my 100th bar in June 2017, not quite two years after moving to the area. I wanted to do something special, so I saved Top of the Mark for this occasion. This is one of the more famous and dare I say "touristy" bars located on the top of Nob Hill. My good friend Nate joined me for the event.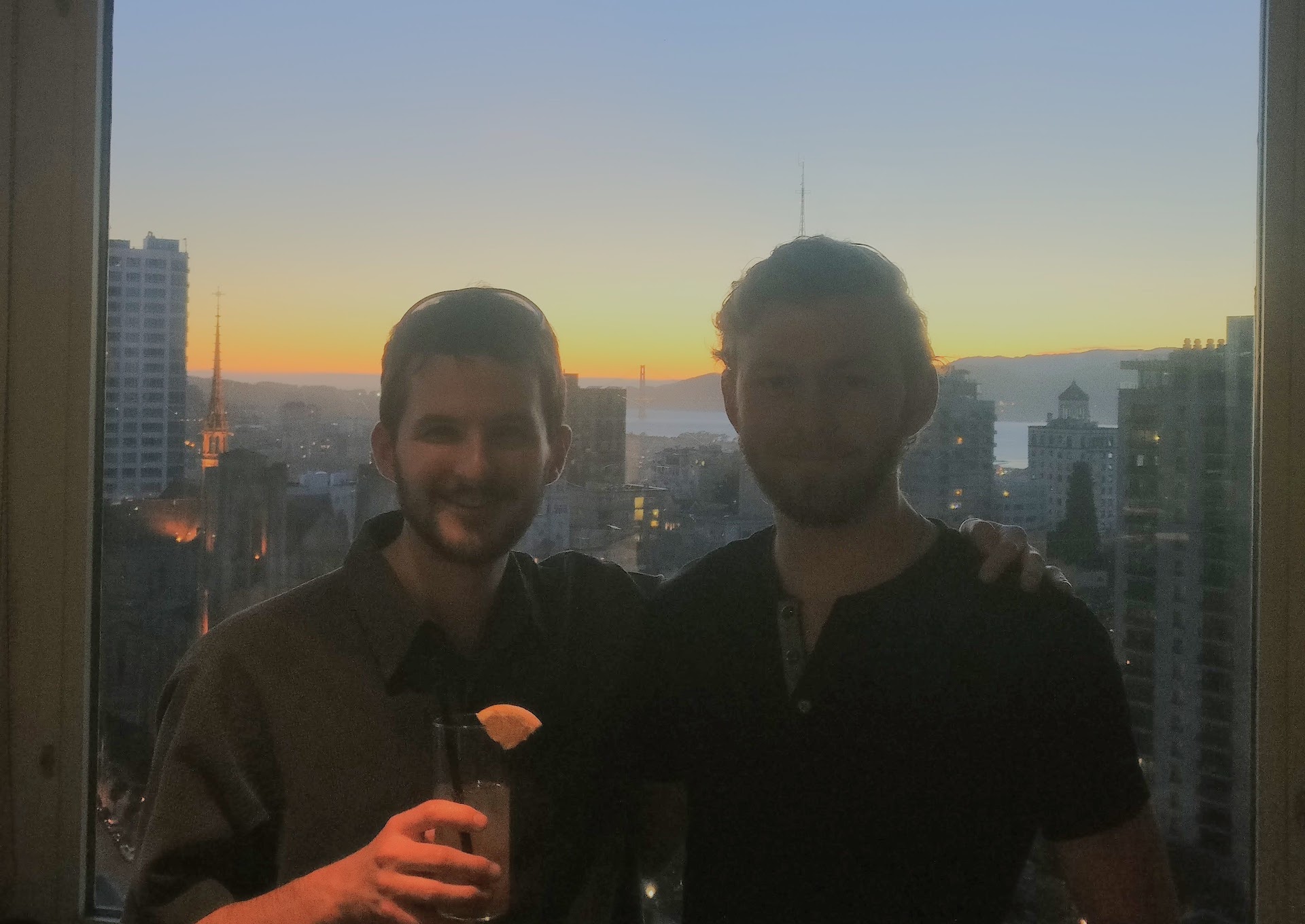 Although I mentioned earlier that I do not try to rate bars, I will say that "Top of the Mark" was not my favorite bar. The bar itself is off awkwardly in one corner of the room and the drinks are overpriced, but I guess the view makes up for it. The real shame is that I think the bar might have been better in its original oval-shaped configuration from days of old.
After the hundredth, my bar exploration pace slowed down rapidly for various reasons but has picked up again in recent years. I am getting close to two hundred and am sure to do something special for that as well.
Some of My Favorites
Again, I don't rate bars but there are certainly many that come to mind as my favorites. This list is not in any particular order.
Harmonic Brewing: Harmonic was introduced to me during their early days by my college friend Danny. It has been fun watching this brewery grow from the ground up. They also have good beer.
Noc Noc: My old local bar when I lived in the Lower Haight, Noc Noc features a unique atmosphere. It is rarely crowded and has more of a local feel. This blog post explains it better than me.
Black Sands: Also in the Lower Haight, Black sands is a small brewery gastropub with a great atmosphere. I love coming here at night.
Amnesia (closed): It is really a shame it closed but when it was open Amnesia was my go-to for grabbing a drink while enjoying to gypsy jazz on Wednesday evenings.
Shotwell's: It was one of my first bars in the city, and it is a classic. Think of a boomtown gold rush bar throwback mixed with pool tables and excellent decor.
Last Rites: A recent discovery of mine, this tiki bar in Duboce Triangle has excellent drinks with a great you just crash landed on a remote island theme. I cannot deny that the aviation-related theme helps its case.