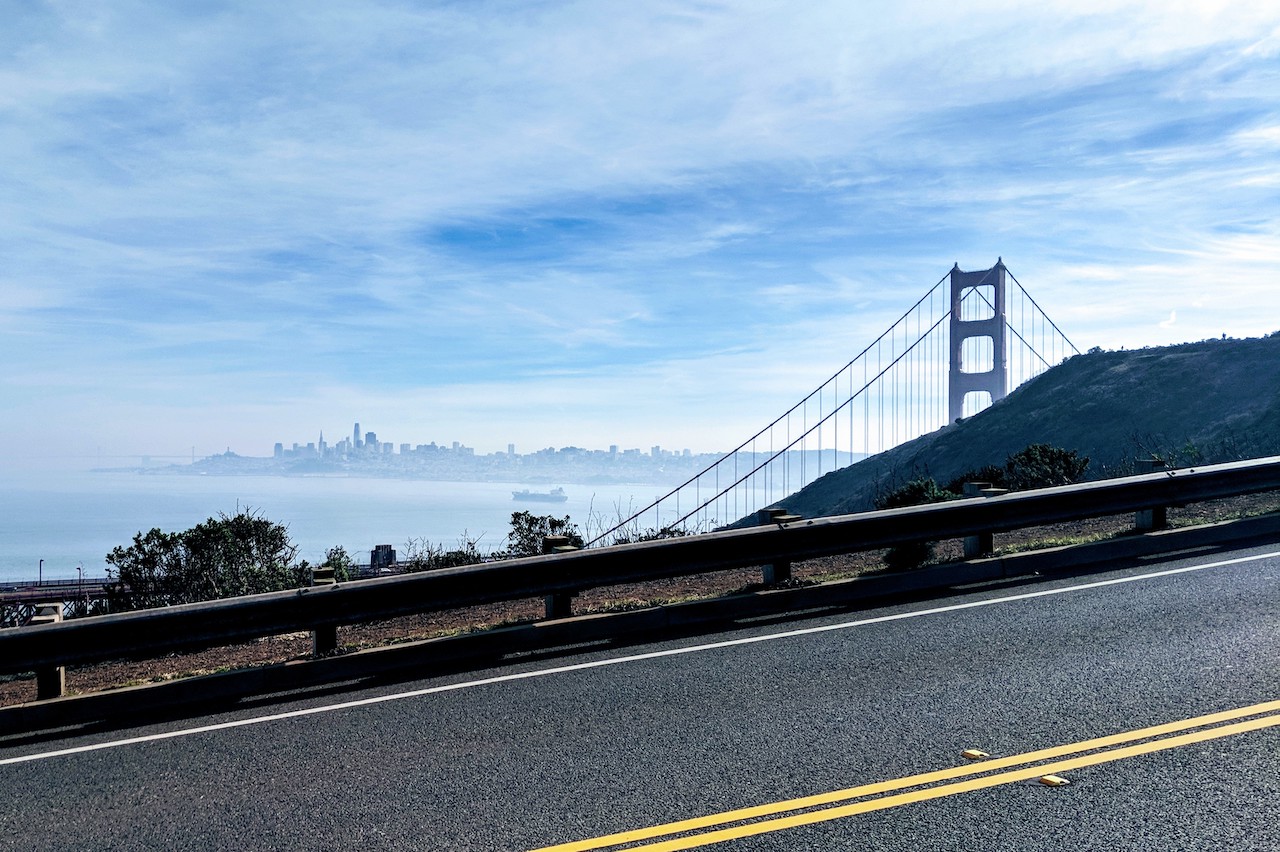 I still have yet to own a car. I have a driver's license, but in reality I am in a cockpit more often than the front seat of an automobile. This life choice has been challenging at times, but I have been quite fortunate to have lived in situations where owning a car is not required.
I wanted to take a deep dive on my thoughts on transportation in the Bay Area, and how a single guy makes it all work in a cost-effective and sane-ish way.
Costs
The obvious
I live in San Francisco, a city that is in an ongoing battle to make personal automobile transportation as painful as possible. Without a doubt, the biggest reason I do not own a car in SF is because high costs that do not justify the benefits. I am going to ballpark some of the costs assuming I were to lease a vehicle today:
Car payment: $200/month
Street Parking: $150/month
Gas: $4/gallon × 20 gallons/month = $80/month
Insurance: $80/month
Maintenance: $30/month
I am intentionally being conservative with these estimates by assuming a minimum amount of fuel, a cheap car that requires little maintenance, and a driver with low insurance premiums. The costs above add up to about $540/month in average costs.
The devil is in the details
It gets worse than that. Those costs don't take into account commuting to work or going out. Most people are going to use public transportation or their taxi service of choice anyways, even if they own a vehicle. If you were to drive to work in San Francisco, then your parking costs alone would balloon out of control. If you tried to drive to the bar on Saturday night, well you wouldn't have much fun now would you 😉?
Accordingly, let's add another fudge factor for taking public transportation to work and a couple taxi rides on weekends. The Muni currently charges $81 for a monthly pass, which makes sense financially if you live and work in SF. In the best case, taking an Uber or Lyft to the bar on the weekend is going to set you back $10/week1. That brings an additional overhead cost of about $120/month, increasing our previous estimate to $660/month.
But wait, there's more! We haven't even explained the risks with parking your car in San Francisco, where you have two options:
Pay $150/month for street parking and risk having your vehicle's window smashed. If you're really stupid unlucky they might even steal visible valuable items you left in your back seat.
Pay $300/month for a garage spot and significantly reduce your insurance claims, as well as time you waste playing musical chairs every Tuesday for the street sweeper.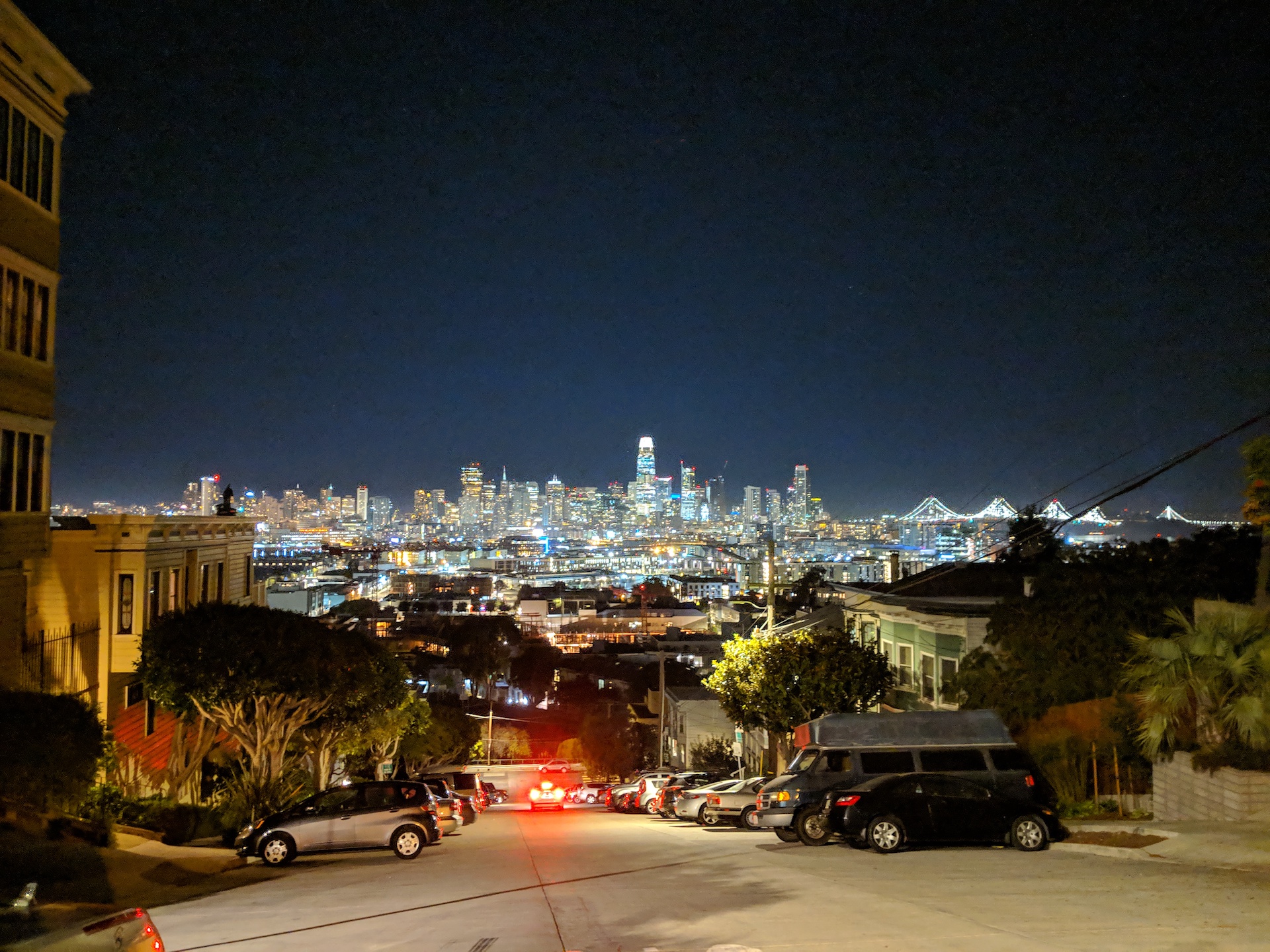 Let's just say that there is an additional overhead of $150/month in either case: for the risks and time spent street parking or for the explicit costs of having a dedicated garage space. This brings our monthly costs to $810/month. There are so many other hidden costs that I haven't mentioned, but you get the point: it's expensive.
Reality
Many residents in San Francisco have also come to similar cost conclusions about owning a car. Those residents either don't buy a car or quickly liquidate the one that they have. In that case, these residents typically get around by one of the following modes:
Taxis (Uber, Lyft)
Bike (personal, bike share programs)
Walking
There is a significant population in the yuppie community that travels almost exclusively by taxi, and that gets expensive quickly but in most cases is still cheaper than owning a car. A friend of mine said they spent on average $600/month on Uber rides. That is a more extreme case, but many people certainly do better by mixing in some of the other methods as well.
Those that do own cars in the city usually have them because their commute justifies the ownership, the car has already been paid off, or they are frequently leaving the city to go to Tahoe or some other lovely destination. These considerations do not apply to me personally, but they are certainly worth mentioning and will affect your cost-benefit analysis.
My Approach
I am definitely in the multi-modal camp when it comes to transportation strategies. I use all of the aforementioned methods of transportation in addition to a few others:
Scooters (Scoot, Lime, Bird, etc.)
Rental cars (the big guys, Zipcar)
Small airplanes (just kidding 2)
I tend to view transportation as a commodity: a product that is easily substitutable and differentiable mainly by cost. The cost is composed of explicit costs (paying the bus fare) and the implicit costs (the additional time or lack of comfort) of that mode. The implicit costs are what drives my decision making. I tend to put less focus on comfort rather than time, and I would say I am much more flexible on the time aspect than most. At the end of the day I pick the method of transportation that fits the requirements of the intended mission:
If the destination is a mile or less, I walk.
If I am going somewhere in town served by a direct transit line with no transfers, I tend to use public transportation.
If I am trying to get from the Mission District to the Outer Richmond or am otherwise time-constrained, public transportation is going to take significantly longer and I consider a motorized scooter or taxi.
I use my bike (with panniers) to commute to work sometimes, go to the grocery store, and go to the park to hang out with friends.
When I go solo to Hayward airport, I mix and match transit modes. I use BART to get across the Bay to avoid traffic and bridge tolls. Once I get to the East Bay I get to my final destination via bike, scooter, or taxi.
It tends to all work out to the following average monthly costs:
SF Muni Pass ($80/month)
BART Fare ($80/month)
Taxis ($70/month)
Bike ($25/month in maintenance)
Walking ($0)
Scooters ($40/month)
Rental cars and associated fuel/toll costs ($60/month)
Call it about $415/month in transportation costs. Oh and by the way, I get a little tax deduction from public transportation by purchasing tickets through my company's transit benefits program (this is not factored into the costs above but many large companies have a similar program).
Time
A lot of people who hear my transportation strategy (especially in the "taxi or bust" camp) immediately question
Do you consider how much money you are losing by taking transportation methods that cost more of your time?
Why yes I do! I personally believe that the value of my time constantly fluctuates and it may be cheaper (in units of time) to take a taxi over public transportation or vice versa depending on the circumstances. Sometimes I just need to get somewhere fast and a taxi is the only way I can get it done; other times I am not in a hurry and taking a bus or train sounds like a fun little adventure.
In addition to fluctuating cost of time, I think the key to lowering the opportunity cost of slower transit methods is to make that time as productive as possible. At the end of the day burying my face in my phone is no different whether that is on the bus or laying on my bed at home, so I try to allocate that time efficiently to minimize "dead time" on the bus. It also has an added side benefit: listening to podcasts on the bus blocks out some of the screaming background noise. Here are some concrete examples of how to make your slow transportation more productive:
I have a backlog of podcasts that I schedule for listening while I am on then bus or the train. I sometimes download long YouTube videos offline and watch them during my commute.
For piloting purposes, taking BART is actually a fantastic way to spend time getting an official weather briefing online, and to visually observe the big picture weather systems outside the train!
Calling a family member or friend while you are walking somewhere can be an excellent way to efficiently use your time, while also catching up with people that you care about3.
Lastly, sometimes spending more time getting somewhere has added benefits besides being productive. The new trend among milennials is to practice mindfulness and meditation. What better way to do that than by collecting your thoughts while walking the streets of San Francisco? There is a breathtaking view just about all the time!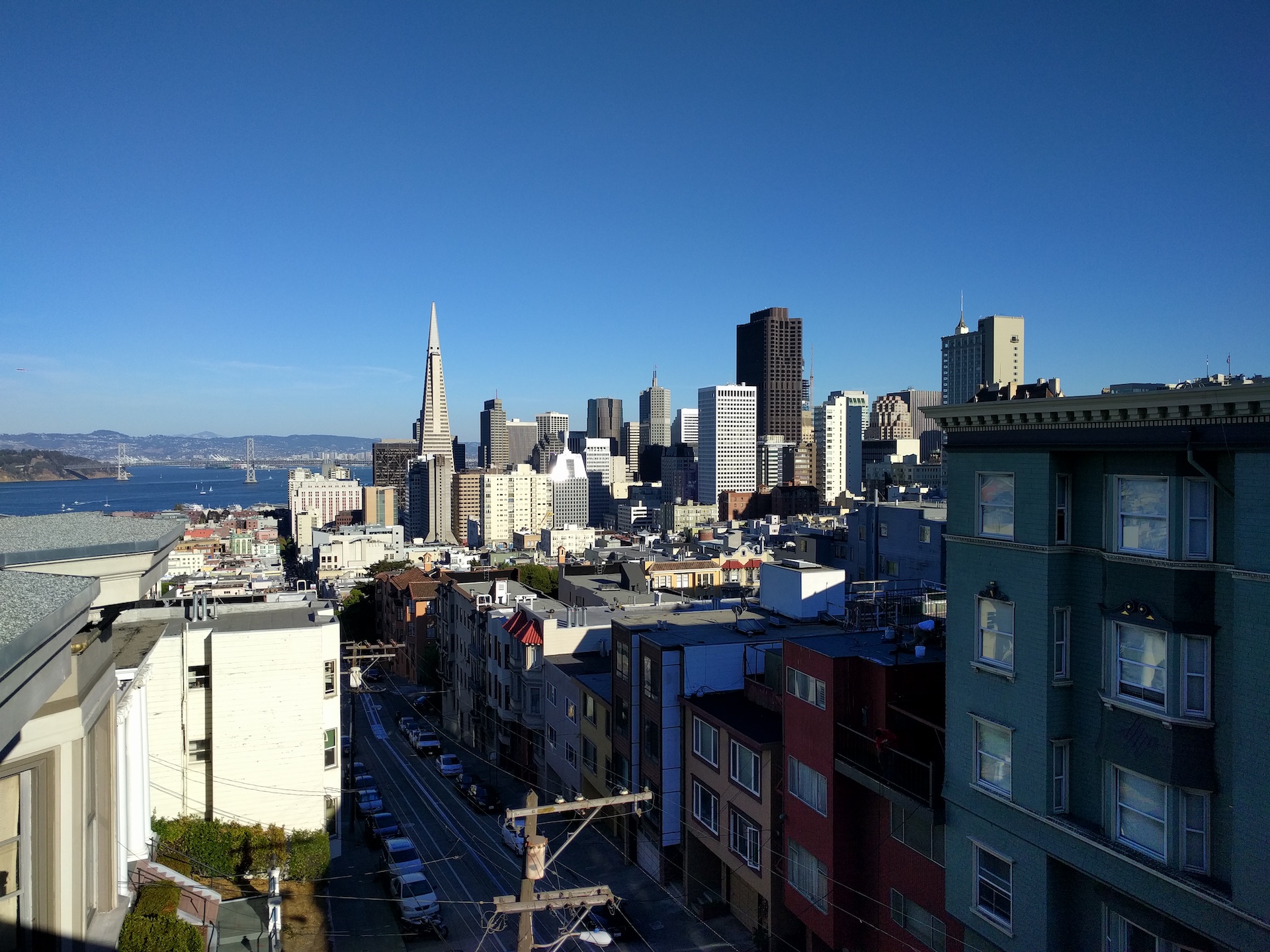 On Public Transportation
The most objective criticism I hear about public transportation, especially the Muni, is that it is slow. I would say it is generally slow-er than other transportation methods, but not all the time. If used properly, the Muni or BART can get you somewhere in about the same time or better than a taxi. I have certainly been in many excruciatingly painful shared taxi rides where I get the grand tour of San Francisco while I wait extra time for my co-passenger Joe to figure out which street corner he needs to stand at.
The second criticism I hear about the public transportation is the clientele. I have to admit that I am definitely more comfortable in this regard than the average individual. Part of this has to do with my early foray into the field, when my buddy Ryland and I would commute home from high school on the Los Angeles Metro4. We observed a lot of crazy things in those days and such schenanigans do not phase me anymore. We saw everything from guys with razor blades grafittiing the train windows to some dude who had fallen asleep yet continued to take bites of a Taco Bell burrito resting on his shoulder.
So I guess you caught me red handed there: public transportation is open to the public, and thus has tons of interesting people aboard. Like this dude: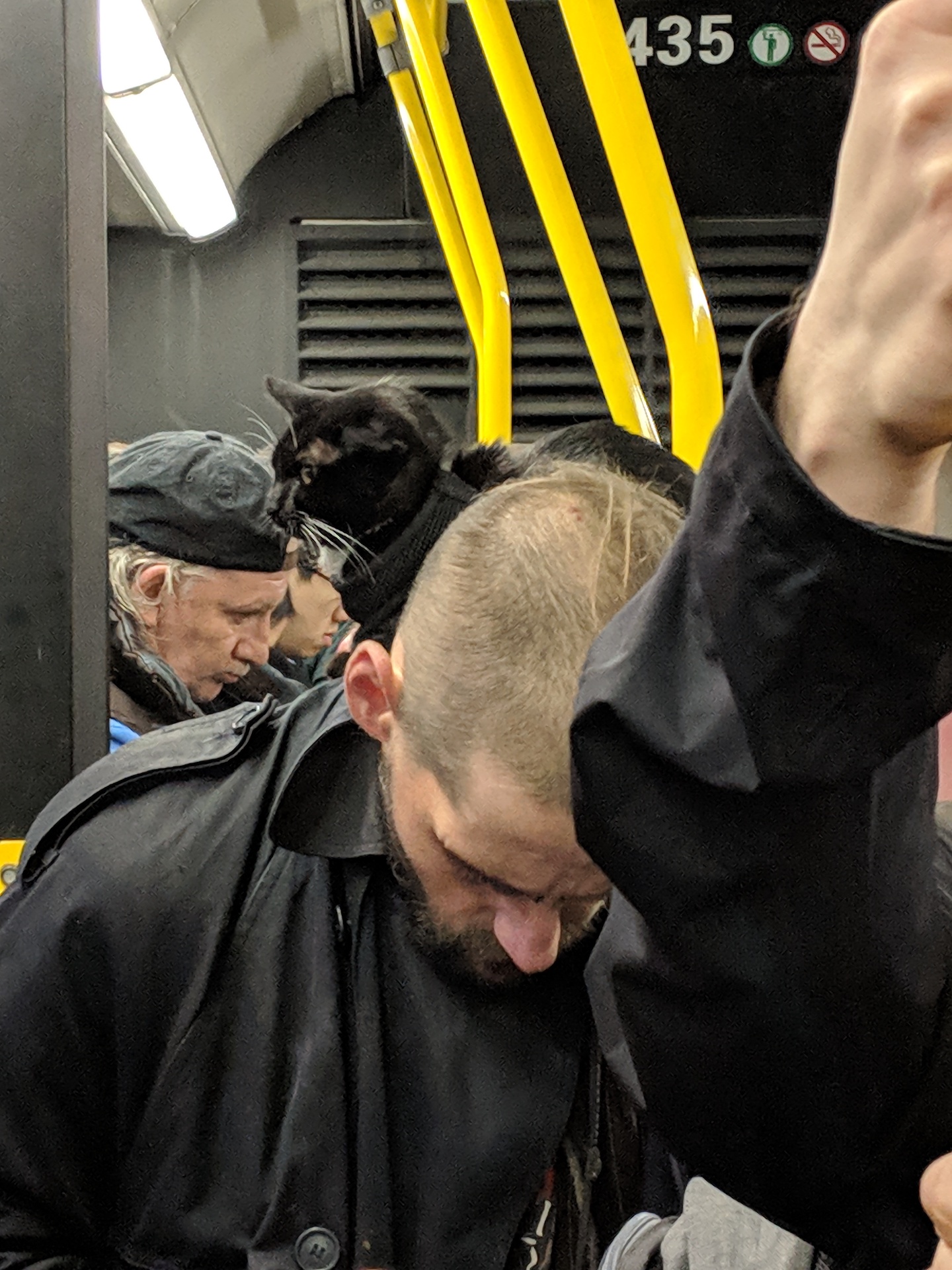 Yes, that is a cat. If that cat gets scared that dude's upper back is in for a rude awakening.
In all seriousness though, I actually enjoy being on public transportation. It brings with it a certain connectedness to the city in a way that being in a private automobile does not. It is a similar to why people enjoy walking. Think of a bus or train as a sidewalk on wheels (watch your step). Since the bus is effectively a public place, it exposes you to a cross-section of society that you don't normally spend time with. They are people too, and just because they sound crazy does not mean that they're dangerous. We elect plenty of crazy people to public office, who are arguably more dangerous than that dude with the cat on his back.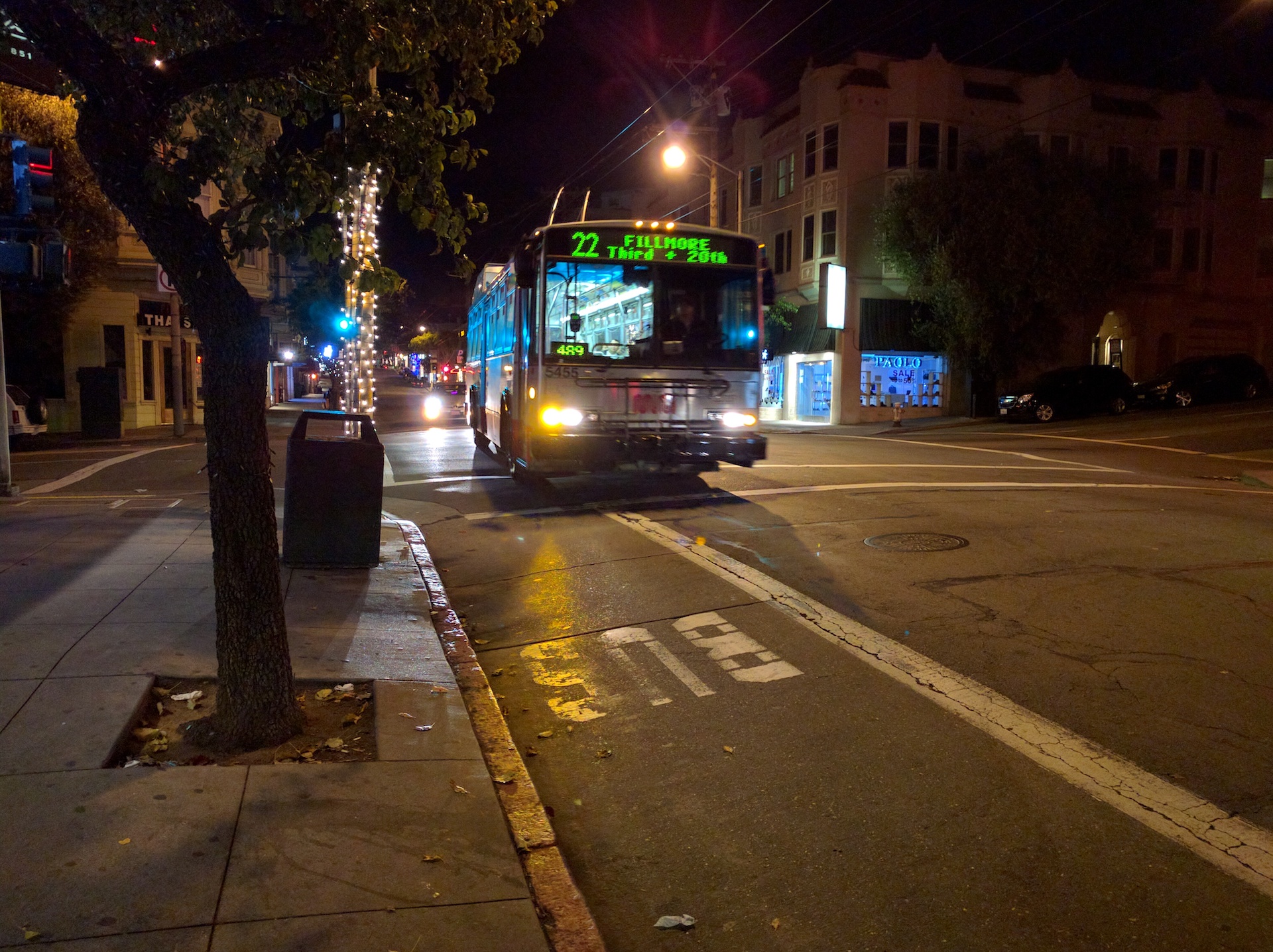 Your Mileage May Vary
I hope that this exposé presented one way of attacking the challenge that is transportation in our lovely city by the Bay. I do want to call out that your mileage will vary (literally, in some cases) depending on whether you are not single, have to commute to a transit desert, or have a life-threatening phobia of men with cats on their back. I am sure that I will continually find new distractions to delay the onset of car ownership, and hopefully have a lot of fun along the way. Sit back, relax, and enjoy the ride however you choose to do so!