A large component of flight training is learning how to handle unexpected situations in flight. Therein lies the value of well-trained pilots: being able to prioritize and make good aeronautical decisions when it matters most.
Carburetor Ice
One of the scenarios that most general aviation pilots are aware of is carburetor icing. This situation is well documented across FAA textbooks, exams, and is taught throughout flight training.
A significant number of general aviation aircraft still use carbureted engines (as opposed to fuel injected). A carburetor is the central point of the engine where fuel and air are mixed and sent to the combustion chamber. A venturi is used to suck the fuel into the incoming air by providing an area of low pressure.
A side effect of the venturi is that the decreased pressure and increased airflow causes a drop in temperature. If the temperature drops sufficiently and the air is sufficiently saturated with water, then ice can begin to accumulate. As ice accumulates, the airflow through the carburetor is reduced and the engine operates less efficiently. A complete ice blockage will result in the engine stopping.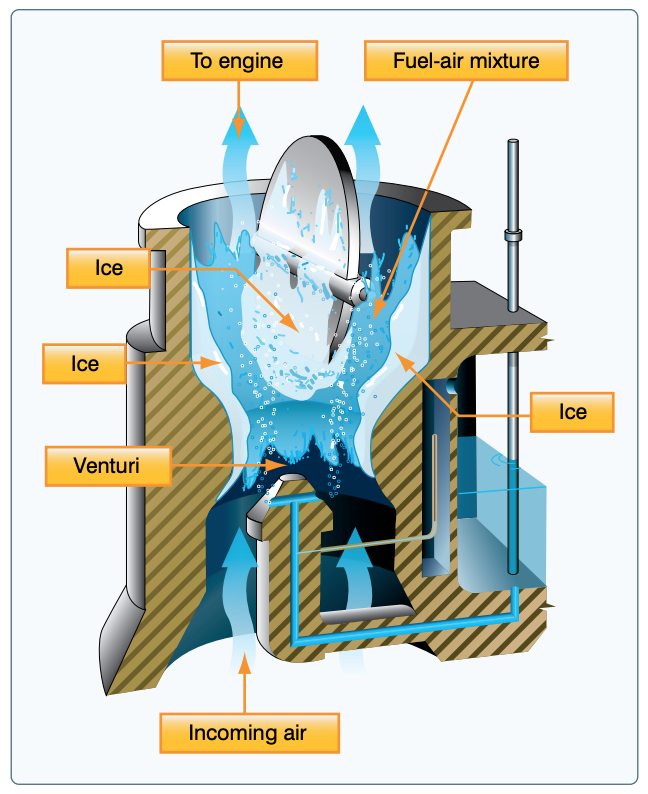 Conditions
Carburetor icing is more likely to happen in humid or cold climates, but pilots are often reminded that it can occur at temperatures as high as 38℃ (100℉) and relative humidities as low as 20%. This boldmethod article has a great diagram that shows the regions where carburetor icing is possible.
Detection and Mitigation
The textbooks usually state that the first indication of carbureror icing is a decrease in engine revolutions per minute (RPM), which may be followed by engine roughness. The problem with the decrease in RPM is that it is gradual so you need to pay close attention to your RPM indicator if you want to notice it early. As soon as carburetor ice is suspected, the fix is simple: turn on your carburetor heat. Carburetor heat redirects the air intake for the engine to warm unfiltered air near the exhaust manifold. Because the air is warmer, any accumulated ice will slowly melt at the expense of your engine operating less efficiently.
My Experience with Carburetor Icing
I consider myself pretty diligent with using my carburetor heat according to the manufacturer's recommendations. I fly a carbureted Cessna 172, which is more susceptible to carburetor ice than other aircraft (like the Piper Cherokee). Cessna recommends the use of carburetor heat any time when operating outside of the green arc on the tachometer. This happens most often when flying in the traffic pattern, on approach to land, and sometimes in a descent.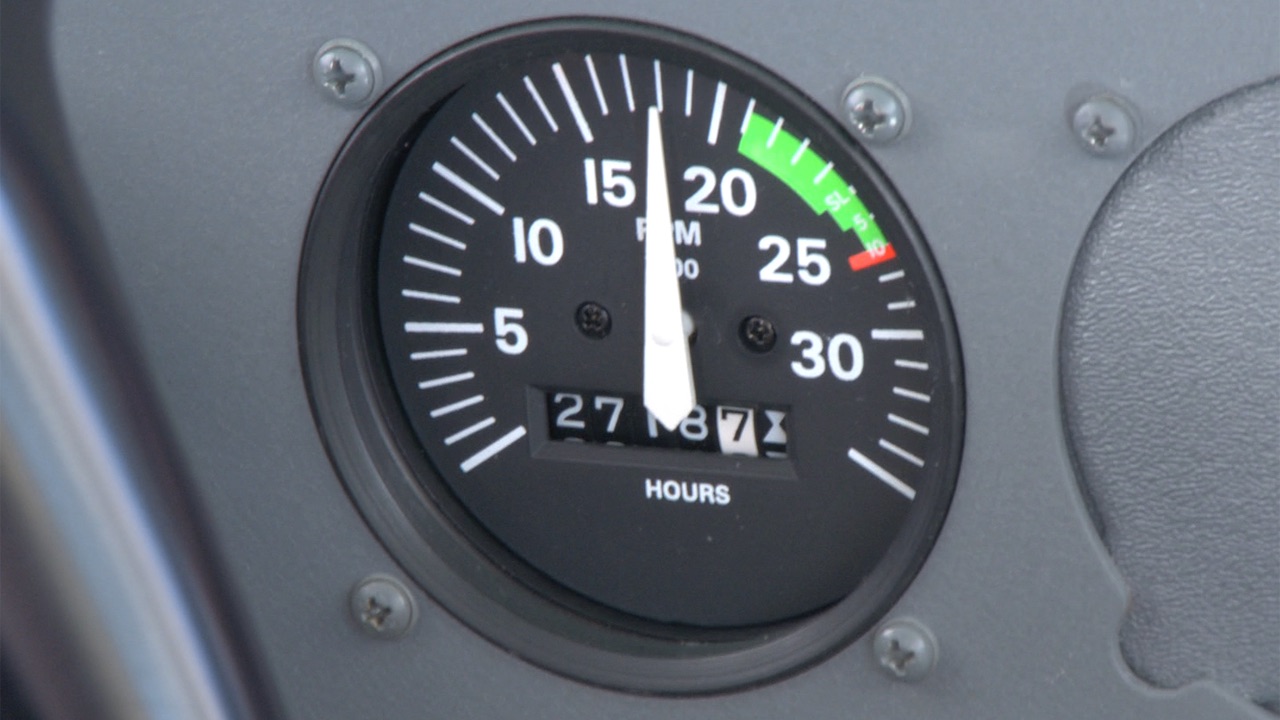 Of course Cessna also recommends applying carburetor heat when carburetor icing is suspected. 😉
First time: a textbook case
I went nearly 150 hours of flight time without seeing carbuertor ice once. This is suprising because I fly in the San Francisco Bay Area, where temperatures are regularly 15-20℃ (60-70℉) and relative humidity is above 40%: perfect conditions for carburetor icing.
The first time I encountered carburetor icing was on an IFR flight from Hayward to Stockton in a Cessna 172N in December. We were in the clouds at temperatures just above freezing and it was raining. My instructor pointed out that I kept adding throttle to keep my RPM constant, and he asked me "is your RPM decreasing without you adjusting the throttle?" At the same time, the engine was starting to run rough. I increased the mixture but I couldn't figure out why the engine still was running rough. I wasn't latching on to my instructor's hints. He had already figured out that we were getting carburetor ice, and I was lolligagging with another task. Finally, my instructor drops the ultimate hint: "I'm just trying to make sure we don't ice up our engine and have an emergency."
That sent the message, so I turned the carburetor heat on and within a minute or so the engine was running smoothly again. This was my first encounter with carburetor ice, and it was a textbook scenario. After this lesson, I reflected on how much I had studied about carburetor icing procedures but was unable to recognize it in practice. It was precisely that I wasn't expecting it, and thus wasn't on my mind. Typically in IFR flying we think about structural icing a lot but can tend to forget about internal engine icing potential.
Second time: a not-so-textbook case
The motivation for this article is my second encounter with carburetor icing. My instructor and I were doing an IFR recurrent training flight in visual conditions from Hayward to Merced in May. Weather was clear skies with temperatures of 24℃ (75℉) at the surface and relative humidity of 30%. A few minutes into our descent on the instrument approach, the engine began to run rough.
I asked my instructor, "did you feel that?" He agreed, chuckled, and asked bluntly "are you going to fix it?" I instinctively enriched the mixture which helped a little bit but the engine continued to run rough. I started to panic internally and thought about options to divert, which would be complicated since we were under a rigid flight plan from air traffic control. My instructor encouraged me to not rush to divert so quickly and start troubleshooting instead. I fumbled through my checklist giving an excuse that I didn't have an "engine rough" checklist, just one for an engine failure. After some hints, I ran through flow checks of my systems one at a time: carburetor heat on, fuel selector check, magnetos. The latter two checked out but a minute after turning on the carburetor heat, the engine roughness went away.
I was baffled. Unlike the first time where carburetor heat made sense given the conditions, in this case I never suspected I was susceptible to carburetor ice. Again, my expectation bias was inhibiting me from running through the troubleshooting procedures properly to mitigate the issue.
If you want to see a video of this exact story, check it out on YouTube.
Takeaways
Both of my encounters with carburetor ice were excellent learning moments that I am lucky to have experienced. It was also super lucky that my instructor was there for both of them. I have drawn a few important lessons from these situations:
Carburetor ice can definitely happen where you least expect it, even when it is hot and dry.
When under IFR, it is critical to divide your focus between flying the airplane and troubleshooting as necessary. The last thing I need is to get off course or close to terrain because I was too focused on trying to troubleshoot my engine.
My checklist section for checking systems needs to have "engine rough" in the name. I have been in far more "engine rough" situations than complete engine failures, and reminding myself that I have a checklist for it will encourage me to use it when this happens again.
I need to practice instant responses for situations like these that I can do before looking at a checklist. It would be nice to build some muscle memory to always turn the carburetor heat on and increase the mixture whenever the engine starts to run rough.